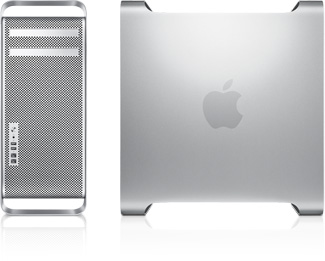 Quad-Core
One 2.66GHz Quad-Core Intel Xeon "Nehalem" processor
3GB (three 1GB) memory
640GB hard drive
18x double-layer SuperDrive
NVIDIA GeForce GT 120 with 512MB
-->
RM 9,299.00
8-Core
Two 2.26GHz Quad-Core Intel Xeon "Nehalem" processors
6GB (six 1GB) memory
640GB hard drive
18x double-layer SuperDrive
NVIDIA GeForce GT 120 with 512MB
-->
RM 12,299.00
-Processor speeds up to 3.33GHz
-Memory up to 32GB
-Hard drive storage up to 8TB
-Graphics card options
-Mac Pro RAID Card
Mac Pro at a glance.
- A redesigned interior makes it easier to add up to 32GB of memory, four PCI Express 2.0 expansion cards, and up to 8TB of storage.
- Powerful AMD and NVIDIA graphics cards provide the fastest-ever Mac graphics, while the Mini DisplayPort gives you more display options.
- With four cores and an integrated memory controller, the Quad-Core Intel Xeon "Nehalem" processor boosts performance nearly 2x.
- Highly recyclable and even more energy efficient, the new Mac Pro is designed with the environment in mind.
sumber:
http://store.apple.com/my/browse/home/shop_mac/family/mac_pro?afid=p202%7CGOSGE&cid=AOS-AP-MY-GOOGLE-AA0000087354-9
_________________
がりえ しあ